Alice in Stowford Wonderland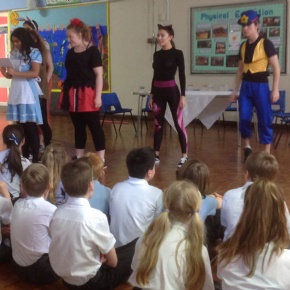 On Thursday, 19 April Ivybridge Community College Performing Arts BTEC students visited Year 6 pupils at Stowford Primary School to show their examination performance based on Alice in Wonderland.
This was a community performance interpretation of part of the story and involved Drama, Singing and Dance, and not to mention lots of audience participation. Once the performance had finished, the Year 6 pupils were invited to learn a little from each area. At the end they joined in with the performance, creating their own scene to say 'goodbye' to Alice, helping her out of Wonderland.
"It was a really clever piece and beautifully performed. The students interacted with the younger children brilliantly and have been welcomed back to perform as the Year 6 pupils thoroughly enjoyed it," said Sharon Kee, Ivybridge Learning Community Outreach PE Teacher.
After the BTEC students had left, the Stowford pupils then created their own version of what they had seen and shared this with each other.
Overall, it was not only a lovely afternoon, but an educational and successful one too, which benefited the College BTEC students and Stowford pupils alike, as it will soon be time for the Primary school pupils to think about their end of year school production.
Well done to all involved.