Primary Schools Entertain at Gym and Dance Show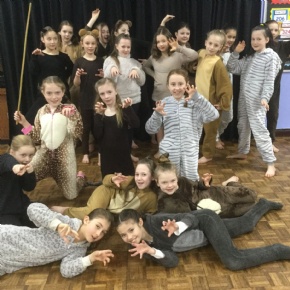 On Tuesday, 6 March two hundred and forty children from the local Primary Schools of Ermington, Manor, Modbury, Newton Ferrers, Sparkwell, Stowford, The Erme, Ugborough and Woodlands, attended Ivybridge Community College to share thirteen different Gymnastics and Dance Performances that had been created during PE curriculum time or as part of an afterschool club.
Parents and friends packed out the Performance Hall and were entertained, over two separate performances, with pieces based on Rock 'n Roll, The Jungle Book, The Lion King, Cheerleading, Rainforest, Tribal, Lollipops and even Synchronised Swimming!
It was an amazing afternoon with a lot of variety, colourful costumes and some fantastic Gymnastics and Dance skills.
Thank you to all the pupils and teachers involved for their hard work, enthusiasm, energy and creativity!!! Here's to next year.