Dressage Success for Equestrian Team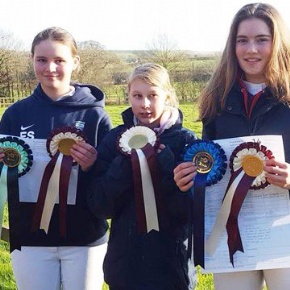 During the weekend of 17 and 18 February the Ivybridge Community College Equestrian Team competed at the National Schools County Dressage competition at Bicton Arena.
The team of Rebecca Reid, Molly Northmore, Ellie Smart and Courtney Fletcher won the competition and have qualified to represent Devon at the National Schools Equestrian Association County Dressage Team Championships to be held at Bury Farm Equestrian Club, Buckinghamshire over the weekend of Friday, 20 April to Sunday, 22 April 2018.
There was also individual success for Rebecca Reid and her horse Rico, who finished in second place in the Preliminary competition, with a score of 72%, which qualifies them for the Championships. Ellie Smart finished fourth with her horse Sunbeam. In the individual Novice competition, Molly Northmore achieved first place with 65% qualifying them for the National Championships and Jenny Daniels finished in third position.
A fantastic team performance from the Ivybridge Community College Riders.