Magic Happens at the Library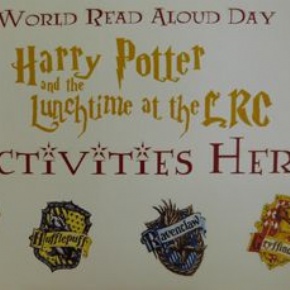 On Thursday, 1 February the whole College took part in World Read Aloud Day to encourage staff and students alike to read together and share stories to advocate for literacy as a human right that belongs to all people.
Simply reading to a child every day puts them almost a year ahead of children who do not experience the fun of being read aloud to.
But the College didn't stop there...
Book shops and libraries across the country celebrated Harry Potter and the joy it has spread in the last twenty years since its publication in 1998, and Ivybridge Community College never passes up an opportunity to celebrate reading. So we brushed off our witches' hats, got our cloaks out of the closet, and whipped out our wands to create the most magical Harry Potter celebration the school has seen.
Lunchtime saw a multitude of students wanting to be 'sorted' into their favourite houses by our very own Sorting Hat, Mrs Hull. Hermione Granger and Draco Malfoy (or perhaps you know them better as Miss Smith and Mrs Pitcher) entertained with spellbinding readings and bewitching dramatics. Meanwhile, Miss Haveron tested the student's magical knowledge in quizzes that would rival the N.E.W.T (Nastily Exhausting Wizarding Tests).
The student librarians were enchanted; "It's the most people I have ever seen in the library at lunchtime!" and one even went as far as to say "it was the most interesting day in my five years of being at school!" One avid Harry Potter reader was delighted, "It really shows how much people love Harry Potter because so many showed up and dressed up!"
It was a non-stop whirlwind of wizarding wonder that left the students charmed and the staff stupefied.