National Recognition for Ben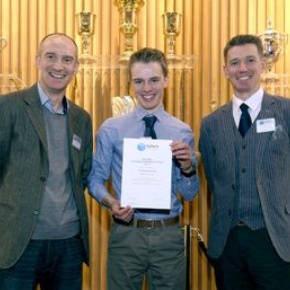 Former Ivybridge Community College student, Ben Harvey, achieved top grades in his
A Levels last year. One of his A* grades was in Chemistry and it was so good, he was recognised for this achievement by the OCR Examining Board and invited to their awards ceremony in London.
The Salters' Institute Annual Awards Ceremony is a prestigious annual event held at
Salters' Hall in London and celebrates high levels of excellence within science education. It recognises the outstanding achievements of A Level students in their exams and this year the Ceremony took place on Friday, 8 December 2017 with around 180 guests attending the Awards Ceremony and lunch reception. The keynote address was delivered by
The Rt Hon Lord Willetts, Executive Chair of the Resolution Foundation and Honorary Freeman of the Salters' Company and who also presented the Awards at the Ceremony.
To put his achievements into context, over five thousand students sat these particular Chemistry examinations last year and Ben was one of four recognised for achieving the highest scores. His effort, commitment and enthusiasm not just for Chemistry, but for simply the quest for knowledge was on another level and this award was well deserved.
Mr Richard O'Hara taught Ben in Years 12 and 13 and along with Ben's father felt great pride in seeing Ben receive his award. He said "It was great to catch up and hear about how much he is enjoying life at Cambridge University both in and out of the lecture theatre. He said he really loves University life and we wish him all the best in his future life. Many congratulations."