Key Stage 3 Christmas Community Project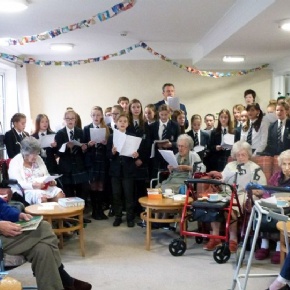 Twenty three Year 7 and 8 students visited Ivydene Care Home to host a Christmas Coffee morning with the residents living there.
These students had demonstrated outstanding commitment to the Christmas Community Project during Tutor time. At the care home, they were able to give the gifts and cards their Tutor Groups had been working so hard on preparing, to the residents. There were Christmas Carols performed throughout the morning by members of the choir and by the end of the first song all of the students, staff and residents were merrily singing along.
The students served hot drinks, cakes and biscuits and had the opportunity to talk to residents of the care home; encouraging them to join in with the festive cheer. The students also ran their own raffle to make sure that every resident got at least two gifts from the beautiful hampers that students in Year 7 and 8 Tutor Groups had made.
They were incredible representatives of Ivybridge Community College and definitely spread their Christmas cheer in the Community!