World Class Schools Award Ceremony 2017 Held at Churchill College, Cambridge University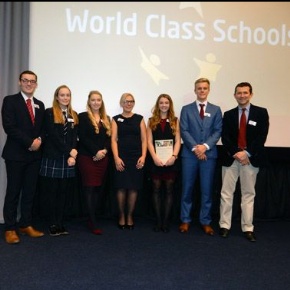 On Thursday, 7 December four World Class students from Ivybridge Community College were invited by Miranda Perry, World Class Schools Quality Mark Award Co-Director, to project manage this very prestigious awards ceremony, held at Churchill College, Cambridge University. This year a further sixteen schools were awarded this unique status.
In addition, Year 10 student, Lucy Ryder attended, accompanied by her mother, as she was one of the ten finalists of the World Class School Essayists. The challenging essay title was "How to improve the democratic system in this country", and the essays were read by Dr Jerry Toner, of Churchill College, Cambridge University.
Lucy received an Honourable Mention for her essay. While Year 12 students Ben Conroy and Ben Tuckley, and Year 13 students Olivia Brown and Hannah Doe, as well as Mrs Taylor, Deputy Principal, received their Qualified Assessor Awards.
Student Ambassadors, Peter Bull, in Year 12 and Adam Northcott, in Year 13, as well as Hannah and Olivia, helped to project manage the event.
During the evening students received a personal tour of the College by Dr Toner, who also gave an invaluable insight into the application process to Cambridge University.
World Class students celebrated at the
World Class Schools Quality Mark( WCSQM) Award Ceremony
On 7 December 2017, Churchill College, Cambridge University hosted the annual World Class Schools Quality Mark (WCSQM) Award Ceremony. One hundred and eighty staff and students from thirty two World Class schools throughout the UK came together to celebrate their students' World Class achievements in 2017. For sixteen schools this was a ceremony to award them the World Class Schools Quality Mark accreditation, after making it through to the final assessment stage last month.
Sixteen of the twenty OFSTED Outstanding schools from across England applying for World Class status this year, were delighted to hear that they had passed the extremely demanding assessment process, undertaken by their students over the course of the year, which culminated in a challenging assessment day on 29 November.
"We feel now that, after this process, every student involved can go on and do something World Class in their future," World Class Student Adam Carter, UTC Reading.
Throughout the process, the award assesses whether students are World Class, against a skills and competency framework unique to this organisation, because it measures young people's readiness for the world of work and life in the 21st century.
"The students this year were the best there has ever been. As a student who has gone through the process myself, it makes me want to up my game," Teddy Thompson, Student Qualified Assessor, The Farnley Academy.
WCSQM is all about the students. The assessment is of the students not the school, and students who have already achieved World Class status can train as assessors for the Mark. This year, eighteen students from current World Class schools received their World Class Assessor Qualification at the Award Ceremony.
"It has been fascinating training up students as assessors. It has helped them develop highly refined skills of analysis and evaluation, which will be invaluable in the world beyond school," Roz Webb, Qualified Assessor.
Special mentions were given to this year's shortlisted essayists, students entering the annual World Class Schools' essay writing competition, and for the first time, to students nominated for an 'Overall Achievement Award', recognising their outstanding World Class skills and contributions.
Congratulations go to Ella O'Loughlin, a student at Bishop Ramsey School in Ruislip, for winning the Essay Writing Competition, and to Elif Karanis, Year 13 student at Chelsea Academy, who went home with the Overall Achievement Award. Benji Watkins, Year 13 student from Sandringham School, St Albans, got a special mention for his World Class services to the organisation.
"The short-listed essayists all demonstrated those truly World Class skills of both a passion, and a limitless curiosity, for their subject," Dr. Jerry Toner.
The Award Ceremony provides a unique opportunity for World Class schools to come together to recognise and celebrate the hard work and World Class abilities of their students. Headteachers, teaching staff, parents and pupils were also given the opportunity to join a tour of the College, led by Dr. Jerry Toner, Director of Studies for Classics, who also hosted a Q and A session on the Cambridge University application process.
"We say to schools, if you are truly World Class, then you need to stand back and let your students prove it. And the students at this Award Ceremony tonight have proved it," Miranda Perry, WCSQM Director
WCSQM would like to extend a special note of thanks to Churchill College, Cambridge, for hosting the event, and to Dr. Jerry Toner for officiating. We would also like to thank all our World Class schools. We are delighted to have the opportunity to acknowledge and applaud everything that makes your school and students World Class.