Lucy Ryder short-listed for the World Class Schools Quality Mark Essay Writing Competition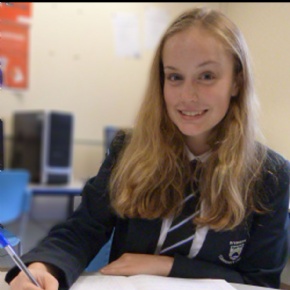 On Tuesday, 1 November the College received fantastic news that Lucy Ryder in Year 10, has been short-listed for the above prestigious essay competition.
The judges from Sir Jonathon North Community College said, "We were hugely impressed by the quality of the entries. They were an absolute pleasure to read and choosing between them was challenging. We certainly feel that all of the students who participated should be proud of what they have written; if they are producing thoughtful, erudite and well-argued essays of this quality now, they are young people to look out for in the future!"
Lucy is now one of only ten candidates to have been selected. Consequently, Lucy, her parents and the Principal, have been invited to attend the World Class Schools Quality Mark Awards Ceremony to be held on Thursday, 7 December at Churchill College, Cambridge, where the 'honourable mentions' and winners will be announced.
The Director of the World Class Schools Quality Mark thanked all the World Class students for their tremendous efforts.
To read Lucy's essay please click here.