Fantastic Freya Finishes Second In The Inter-Schools Plymouth Poetry Competition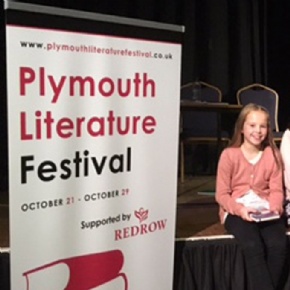 On Saturday, 21 October 2017, Year 7 Ivybridge Community College student, Freya Bechley, achieved an amazing second place in the Inter-Schools Plymouth Poetry Competition.
This is a project aimed at promoting creative writing for children aged five to sixteen.
Freya applied, along with five hundred other children, and was shortlisted down to the final ten in her category. She was then invited as a finalist to perform her poem 'The Perplexing Shadows of Death' at the Plymouth Athenaeum, a closed event at which Plymouth's Poet Laureate, Thom Boulton, was present.