Students once again celebrate with impressive GCSE Results.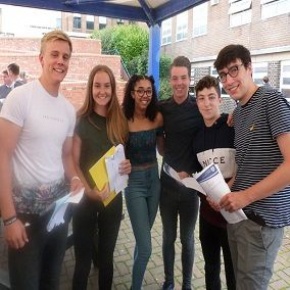 Ivybridge Community College students once again celebrate another strong year with impressive GCSE results above the National average
Staff, students and governors at Ivybridge Community College are celebrating today, after recording some of the best GCSE results in the College's history. This year's GCSE results nationally have been expected to show volatility in outcomes as new specifications and grading systems have started to come into play. It is therefore, highly pleasing to be able to report that Ivybridge Community College continues to go from strength to strength when comparable benchmarks are used and new measures considered.
264 (75% against the national average of 66.3%) students achieving the new Basics measure (previous A* - C measure) in English and Mathematics
54 students achieving the new 9 – 7 'High Pass' measure (previous A* - A) in English and Mathematics
22 students achieving 10 A*/A grades or more across all their subjects
118 students achieving 3 A*/A grades or more
"These results are extremely impressive", said Principal Rachel Hutchinson, "and they are a true reward for both the hard work of our students and the high quality teaching at the College. A large number of staff across a range of subjects have been robust in tackling the new and more demanding specifications and assessment criteria this year. These impressive results clearly indicate the high standards of the College and demonstrate what our students are capable of. Many students have exceeded their target grades, achieving strong passes in subjects such as Science, with 94% of entries achieving strong passes in Physics, Chemistry and Biology." Rachel added, "Particular praise must been given to our new Head of Religious Studies teacher, Gail Snodin and the teaching staff who have managed to achieve an incredible 81% gaining strong passes with a further 31% obtaining the highest passes.
I am thrilled with the achievements of these wonderful young people. They have worked in a determined fashion and have now successfully harvested the fruits of their labour. While their academic success is showcased today, we also recognise the considerable contribution they have made to College life through the Arts, Sports and Outdoor Education".
The College offered its thanks to all the trustees, governors, staff, parents and students for their support and contributions. It said such successes will secure students' futures, and wished them well in the next phases of their lives.