Year 7 Accelerated Reader Celebration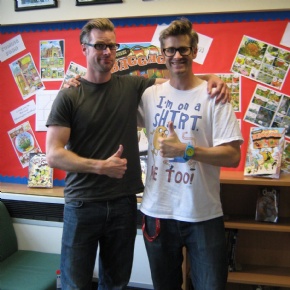 On Tuesday, 6 June, students, teachers and governors gathered to celebrate the reading success of 237 Year 7 students.
Throughout the academic year, students from Year 7 have been reading and quizzing using Accelerated Reader, a supportive reading programme which tests and monitors comprehension as well as enabling students to keep track of their reading progress and reading age. The 237 students invited to the evening celebration were the students who had made significant progress using the programme, some improving their reading age by as much as 4 years in just 6 months!
Celebrations began during Block 5 when most of the Year Group attended a performance hosted by The Etherington Brothers, two British comic creators who have worked with the likes of Disney, BBC, Aardman and Dreamworks. They can now add Ivybridge Community College to the list! Just about to begin their countrywide tour of literary festivals, The Etherington Brothers (Robin and Lorenzo) spent 45 minutes giving Year 7 a comic masterclass. Along with a healthy dose of good humour and fun, Robin and Lorenzo guided the students through a step by step guide to creativity, keeping the students and staff entertained for the whole afternoon.
The hilarity continued into the evening, as the Brothers put on another show for those students who had been specially invited. Along with parents, grandparents, brothers and sisters, the successful students were treated to a hilarious adventure through comic book creation. Robin and Lorenzo not only provided students with some excellent tips on how to create stories and characters, but also reinforced the importance of storytelling and creativity in all of our lives.
Following their action-packed exploration of metaphors, stereotypes and, of course, parachutes filled with granola, the stage was passed to Mr Michael Saltern, Chair of Governors, who congratulated all of the students on their success. After collecting certificates and activity booklets, students were treated to a poem reading from Ms Emily Fairclough, Head of English, who reminded everyone present of the importance of reading and the worlds that are opened up to us through the pages of a book.
After the show, The Etherington Brothers made themselves available for autographing. It proved testament to how much everyone had enjoyed the evening that so many stayed to enjoy as much time with Robin and Lorenzo as possible, with students and parents alike wanting signatures and pictures with the Brothers.