Equestrian Team qualify for the Schools NSEA Eventers Challenge Championships at Hickstead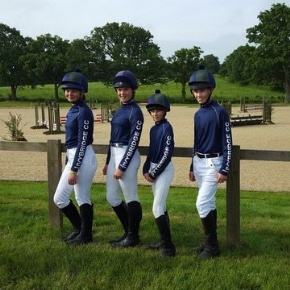 Congratulations to the team of four riders Tom Starling, Rebecca Reid, Ellie Smart and Courtney Fletcher who competed at the prestigious Hickstead Showground at the NSEA Eventers Challenge Championships over the May half term.
These riders had qualified for the Championships back in January when they won their class at the regional qualifying competition in snowy conditions. Fortunately, the conditions at Hickstead, West Sussex over Half Term were considerably better! The team enjoyed warm and sunny weather while they negotiated a tough course of 20 show jumps and cross country fences. In the 75cm Eventers Challenge Championship class the team finished with no penalties, following fantastic clear rounds by the riders leaving the optimum time penalties deciding the top placings. They finished in 11th place out over over 20 schools. Rebecca, on her pony Toddy, had qualified as an individual for the second consecutive year, they finished in 6th place individually which was a fantastic result in a National Championship. The team were then then ready for the 85cm Class which they had also qualified for. The course was changed, jumps were raised in height and was technically much more challenging. The team worked together to finish the competition with as few penalty points as possible. Tom and his pony Eric managing an amazing clear round. They were competing against schools from all over the country and we had some younger and less experienced members in our team. Courtney from Year 7 said it was the most difficult course she had jumped on her pony Polo! All the team agreed they had a fantastic experience and are looking forward to the next competition. Thank you to the team for their smart turnout and sportsmanship you were a credit to the College. Thanks must also go to the parents who transported the ponies and riders the five hours to and from Hickstead.