Ivybridge Gymnasts clinch eight national titles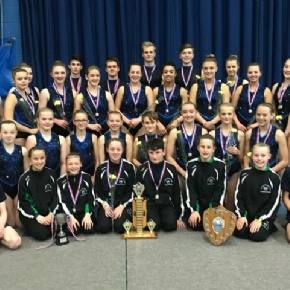 College is UK's most successful School Gymnastics Team at BSGA Finals.
Ivybridge Community College gymnasts confirmed their status as the most successful school team in the country, taking a record eight titles at last weekend's British Schools Gymnastics Association (BSGA) finals in Stoke-on-Trent.
In addition, the Ivybridge Gymnastics Academy gymnasts, who made up the majority of the South West team, brought home three silvers and four bronzes, helping the South West bring home the overall Under 19s team title.
The marvelous results cement Ivybridge Community College's reputation as one of the most notable schools for gymnastics talent in the country, after 14 years of consistently winning titles against the best performers from other UK regions.
Topping the medals chart for Ivybridge were Robbie White and Jennah LeGrice, who returned to Devon as Under 19 Mixed Pairs Champions. Both gymnasts also took the titles in their respective Under 19 Tumbling events and silvers in their Under 19 Floor and Vault competitions. Robbie was a member of the winning Under 19 Boys Floor and Vault Team and Jennah was in the Under 19 Girls' Floor and Vault Team that took bronze.
Further golds were won by Cam Penn and Reece Parkin in the Under 19 Boys' Pairs competition; Ed Slater and Alfie Westerman in Under 14 Boys' Pairs; Reece Parkin and Abi Sandford in Under 19 Mixed Pairs; and the Under 14 Mixed Team.
"Each year the standard of competition goes up and each year our gymnasts step up their performance to the next level," said Helen Reddy, Head of Performing Arts, who runs the Gymnastics Academy.
"In a field that contained former world champions in their disciplines, Ivybridge gymnasts not only performed well but came out victorious, bringing home more gold medals than any other school in Great Britain. That's an amazing achievement, and I'm extremely proud of every gymnast that represented the College."
In addition, the Ivybridge Over 14 Group routine took silver, while bronzes were won by Ellie Bickle in Under 19 Girls' Tumbling, the Under 19 Mixed Team, Under 19 Girls' Team, and Camm Penn in the Under 19 Floor and Vault competition.
"Competition is the very pinnacle of the College's gymnastics activities," added Helen, "but it is important to remember that, while we encourage a competitive programme, our primary aim for gymnastics is to help develop our students' motor skills, creativity, confidence in performing, and teach them beneficial skills in a safe and progressive environment.
"In many schools gymnastics is perceived predominantly as a girls sport, but at Ivybridge we have a very strong base of male gymnasts who are powerful, graceful and perform with style."
Ivybridge Community College now has a stronger base than ever for gymnastics, thanks to a thriving Primary Gymnastics Academy that has more than 150 gymnasts from its partner primary schools regularly attending one-hour-a-week sessions. Under the direction of Mrs Reddy, the sessions are run by young leaders from the College who are taking their first steps onto the coaching ladder.
In addition to the medal-winning results, the Under 14 Team took fourth and Jennah LeGrice and Ellie Bickle were ninth in Under 19 Girls' Pairs.
In all, 34 gymnast from Ivybridge Community College represented the South West region at the British Schools Gymnastics Association finals, after qualifying at the regional prelims in February.