Annual Ten Tors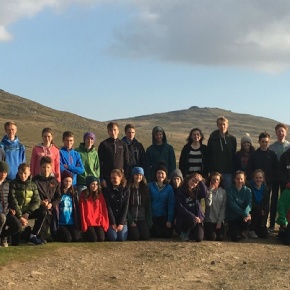 Six teams of students, from Ivybridge Community College, undertook the annual Ten Tors expedition last weekend and once again, the performance of the walkers was excellent, with thirty-five of the thirty-six walkers, crossing the finishing line on Sunday, to collect their medals. Three of the teams walked under the College name, with a further three representing a local Walking Club, the Erme and Yealm Valley Hillwalking Club.
In total there were four teams undertaking the thirty-five mile challenge, made up of students from Years 9 and 10, one team of Year 11 students undertook the forty-five mile challenge and a team of Year 12 and 13 students completed the fifty-five mile challenge.
The teams set off from Okehampton Army Camp at 7.00am on Saturday morning and experienced quite good conditions over the weekend. Saturday was initially cool in the blustery breeze, with a few patches of mist, but the weather improved as the weekend went on. Sunday turned out to be quite warm in the sun.
All teams had returned to camp before 1.00pm on the Sunday, with several being the first to complete their routes.
A group of additional students assisted the Army at Okehampton over the weekend and were a credit to the College.
In addition to the six teams taking part in the main event, a team of six students also completed the Fresh Tracks Challenge. Completing a route of thirteen and a half miles on the Saturday, each team also had to lead a Dartmoor pony around their route.
Ciaran Brooks, Caron Russell, Matthew Wakeham and Nigel Phillips were all recognised by the event organisers, for their voluntary service and helping to train the teams, at a ceremony held at the Base Camp, on the Saturday evening.