A Rainbow of Colours with Diversity Week
Once again this year, Ivybridge Community College celebrated 'School Diversity Week' from 20 – 24 June.
This was an exciting opportunity to spread awareness of equality matters and celebrate diversity within the curriculum and enrichment activities. There were many exciting events taking place across the week that focused on a variety of protected characteristics including sex, sexual orientation, race, ethnicity, disability and religion.
The week commenced with a colourful tutor programme for all year groups, which stretched across the course of the 5 days, allowing students to hear from people from diverse backgrounds, enriching their understanding of diversity. Within this, we were lucky enough to link with Lorraine Bowen (The Crumble Lady from Britain's Got Talent) who spoke to the students about being courageous in your own identity and the importance of kindness.
We also got to hear from the Sea Legs rowing team, who took on the GB Row Challenge this year, attempting to row around Great Britain without stopping. They discussed the barriers they have all individually faced up until the present day, barriers such as bullying, having a disability and racism. Hearing their stories encouraged students to value and embrace resilience, tolerance and respect. The student Equality Ambassadors also held a bake sale in honour of Sea Legs to support them on their quest, raising an impressive £164.35.
The week concluded with a colourful finale: Rainbow Friday and a Colour Run! This was an exciting and colourful day that brought our college community together alongside raising money for two fantastic charities who are supporting the LGBTQ+ community. From the Colour Run and the selling of badges in the Learning Resources Centre throughout the year, we managed to raise £721.13 for Just Like Us. Whilst from the Mufti Day/ Rainbow Friday, we raised a staggering £1070 for the Outright Action International emergency Ukraine fund. What an achievement!
Students reported:
"We are so proud to have raised donations for Sea Legs and Just Like Us during School Diversity Week."
"The Colour Run gave us all a chance to have fun since all of the lockdowns that had such a negative effect."
"It made people realise that no matter who we are we all have the same rights and can come together."
Both students and staff can take pride in their efforts to spread awareness of equality and diversity at Ivybridge Community College, not just during School Diversity Week but right across the year. There was a real buzz from the week that we hope will continue to propel a movement of progress, equality and inclusion not just within Ivybridge Community College but also within our wider community.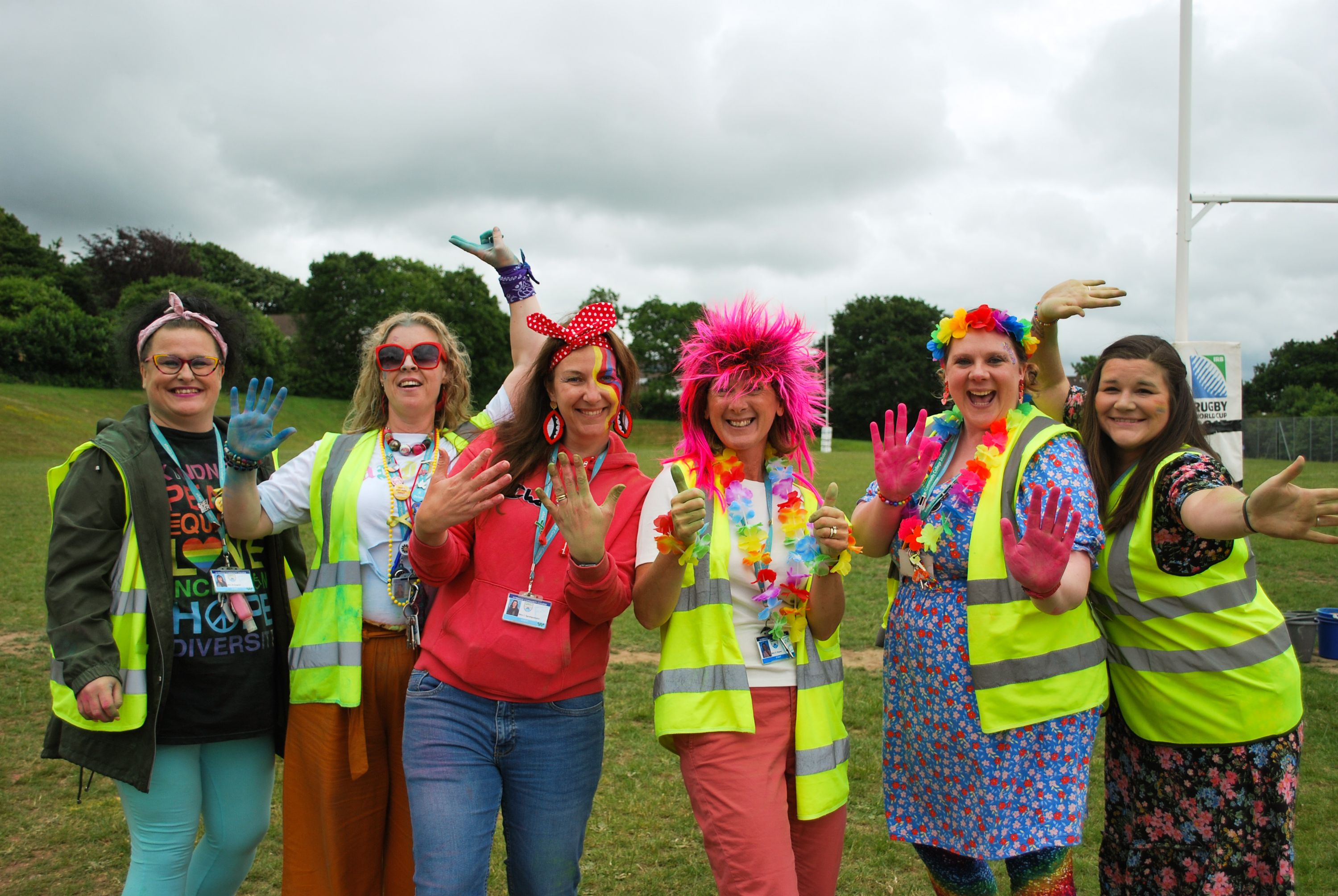 Credit to students Amelie Carpenter and Jaiyana Chelikha for taking and editing images.