Police Cadets' Enthusiastic Presentation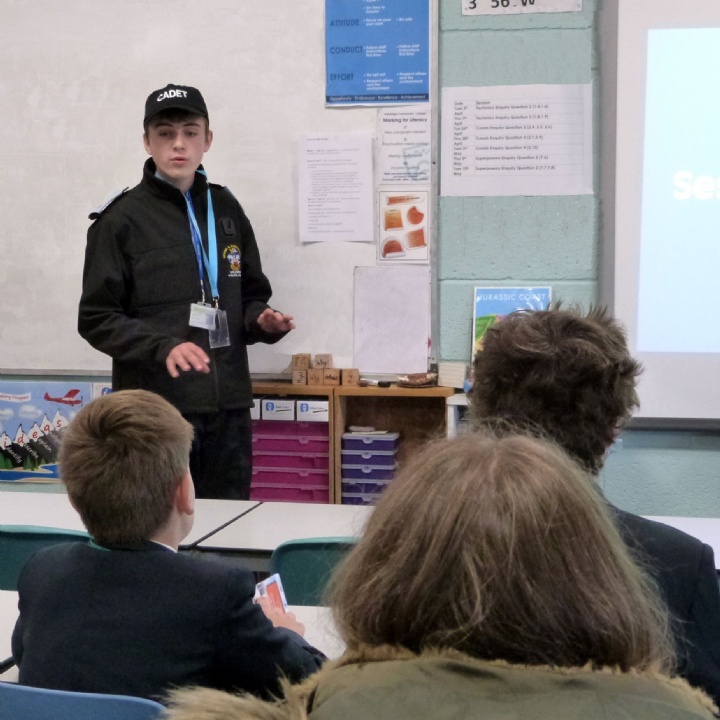 On Tuesday, 10 May, Year 8 Ivybridge Community College students, Oliver and Will, led an Ivybridge Volunteer Police Cadets information session for students in Years 7, 8 and 9.
The presentation was aimed at any students wanting more information about joining the Volunteer Police Cadet Scheme.
The scheme welcomes anyone who would like to learn about policing, volunteering in their local community and an opportunity to meet new friends. The cadets explained all about the scheme and what to expect at a cadet night. There was also an opportunity to look at some of the uniform and kit, and to ask any questions.
Oliver said, "I enjoy being a Volunteer Police Cadet, firstly, because I get to learn about the different areas and units of policing, but also because I get to make a difference in the community with social action projects and with cadets, and I have made loads of new friends. I do want to become a Police Officer when I leave the College, especially in firearms or the dog section, and being a Police Cadet has helped me gain more knowledge about the career I want to join."
Matt Kibler, College Director for Year 8, said, "This is an amazing opportunity for younger students to get experience at an early stage and test their interest in the police force. The opportunity will no doubt give them the chance to develop skills and confidence. The event was completely student led and driven forward by their passion and enthusiasm to give other students the chance to experience what they have so far. We had a good turn out and some very keen interest from our audience."