Musicality Award for Chloe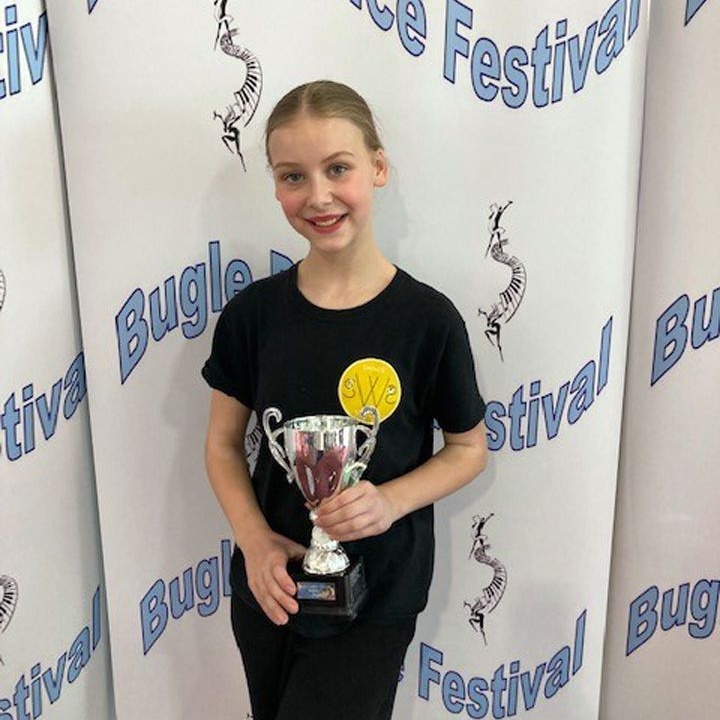 Ivybridge Community College Year 7 student, Chloe Hawker, had a successful 4 day Dance Festival at The Keay Theatre, Cornwall College, in St Austell.
The Bugle Dance Festival was held on Friday, 29 April to Monday, 2 May, and culminated with Chloe being presented with the Musicality award.
Chloe attends the S.W.S Dance Studios in Plymouth, and danced solo performances, duets, a trio, a quartet and 2 group dances in 13 classes. She gained 1st, 2nd, 3rd and 4th placings.
The adjudicator noticed Chloe throughout the festival, commenting on her "artistry, joy and radiance on stage" in every dance performed.
Chloe trains 6 times a week in the different dance genres of modern, tap, lyrical, ballet, pointe work, and song and dance. Following Zoom lessons throughout the pandemic she has continued to work towards exams, which will be held later this year.
Chloe is very pleased to be getting back into the swing of dance festivals and competing across the Southwest, commenting, "I enjoy all the styles of dance that I do because I can express myself physically and emotionally through the music and movements. I challenge myself with my solo performances and love dancing duets, trios, quartets, and groups with my dance friends. I'm so happy to be back dancing to a live audience following a 2 year break from the theatres that I perform at."