Student Ambassadors Assist with Thriving Ivybridge Activities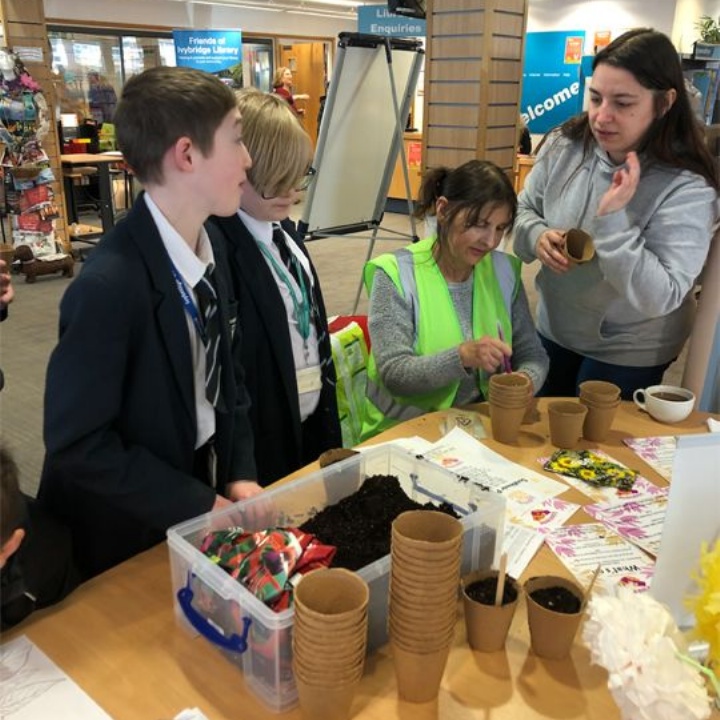 In April, the town of Ivybridge celebrated and showcased some of the many groups, venues and activities that it has to offer.
Ivybridge Community College Student Ambassadors in Years 7 and 8 helped with the Thriving Ivybridge events, taking part in the various community activities. These included: sunflower seed planting for Ivybridge Bloomers, the Ivybridge Arts Trail showcasing College artwork, board games in the Library and supporting the Parent and Child classes. Members of the public commented about how wonderful the event was, and how they "wish that the students could be there every week, as they were so good with the younger children."
The students also joined in with the seated dancing activity in the Leisure Centre with elderly members of the community, whilst the College's Sustainability Group had a stall in the Watermark with vegan baked goods, clothes recycling and sewing.
Charlotte Hanton, Assistant Principal, who accompanied the students said, "It was a fantastic opportunity for students to interact with members of the community, and to show kindness to others. The students developed a new appreciation for the library and the many opportunities it has to offer."
Lisa Setter, Year 7 Pastoral Leader, added, "I was so proud of the students who attended the Thriving Ivybridge event. They fully embraced the day and I received many positive comments from members of the public about how polite and helpful they had been. They were a credit to the College."
PLease click here for further information regarding this event.