Live Performance Showcases True Musicianship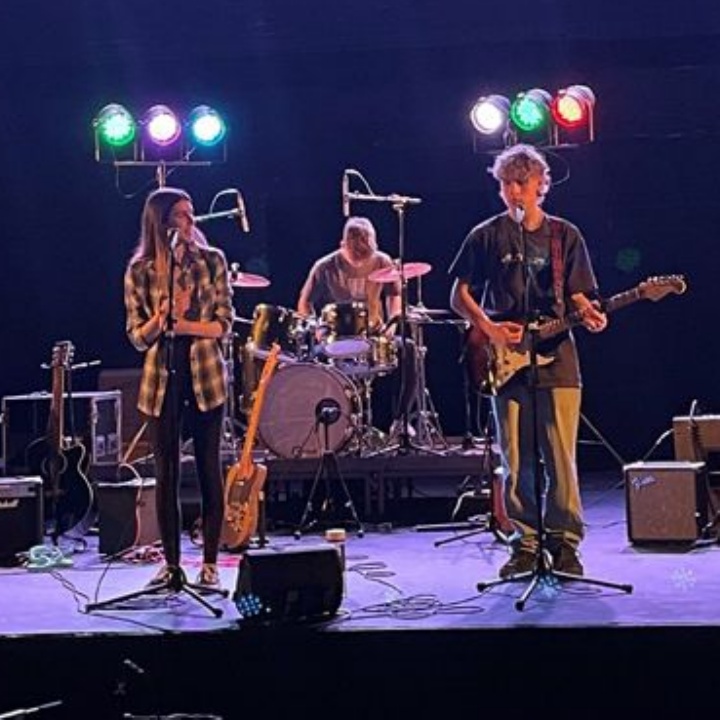 Ivybridge Community College RSL Music students, in Years 12 and 13, were tasked with putting together a performance to a brief of Barriers, Borders and Boundaries.
This formed part of their External Core Unit: Rehearsal Skills and Live Music Performance, for their course. The students were responsible for organising and planning the event, the logistics, set up and sound check on the day, as well as the performance itself and derig afterwards.
Due to the COVID-19 restrictions of the past two years, the students had to overcome huge obstacles that they had no previous experience of, including learning to play together as a band for the first time. They also had to learn how to set up and sound check using professional equipment whilst undertaking this Unit, and finally how to perform and interact with live audiences. It was incredible to see our talented students perform to a live audience for the first time since the College's last public performance, which was the Carol Service in December 2019.
All this aside, the students have shown courage, authenticity, resilience, ambition, character and true musicianship as live performers. They have also set the bar high for all other upcoming performances, opening the season for this year's College Music concerts.
The performances included a mixture of solos and band performances, and highlighted a wide range of musical styles from Indie Rock, to French Ballad and Ska Pop to New Wave, featuring multi-instrumentalist Imogen on the piano, electro-acoustic and electric guitars, and vocals, Casper on the guitar and vocals, Jacob on the bass guitar, Nathan on the drums, and Leah on the piano and vocals.
The students were very pleased to have had this opportunity to perform at the College, with Casper commenting, "It was great fun and I have learned loads, from how to construct a set list, to how to improve the songs within a band." Nathan added, "I personally really enjoyed the whole process and am now looking to do gigs on a regular basis." Imogen has also commented on the lack of performances over the last couple of years and the impact it has had on them as musicians making "performing together feel more exciting and a key motivating aspect throughout the entire process". Jacob has commented on how this performance has helped to improve in confidence, and Leah has really enjoyed the opportunity to perform as a band for the first time in a few years.
"It was a real privilege to come back to Ivybridge Community College on Friday night and watch your gig. Students produced such a slick, well-rehearsed and professional performance and should be immensely proud of yourselves. My 5 and 8 year olds really enjoyed themselves and were particularly big fans of the Wheatus and Madness songs! I wish you all the very best for your exams and in to the future. Even if further study of music isn't part of your plans, please keep playing because you all have real talents!" Nicola Silvester, teacher of Music.
"The students have worked extremely hard to put on such an incredible live music performance, taking this beyond the parameters set by their assessment criteria and turning this into a full-scale event for the audience to enjoy. It was done with accuracy, artistic flair and to a professional standard, setting themselves up for a career in Music. This was a true, high-quality 'graduation' performance highlighting their musicianship, performance skills and stage presence. The audience were in awe, singing, dancing and cheering 'encore!' 'She's So Lovely' was a great number to start and finish with. Really well done!" Katya Padlyevs'Ka, Head of Music.
"It was fantastic to see these students being so engaged and putting themselves out there and performing to such a high standard. It is a real testament to the importance of the performance subjects. This has been highlighted even more by the lack of performances over the last two years!" Imogen Martin, Head of Sixth Form.
"Thank you so much for your work with the RSL group. I too remember those early stages of performance and students learning to work together. The set was beautifully delivered! Parent and peer support for the group was fantastic and it was great to see the support of the department, along with their families, as well as the Sixth Form team. The hour certainly put a spring in my step for a Friday night!" Amy Pearce, Assistant Principal.