Singing Club Steps Outside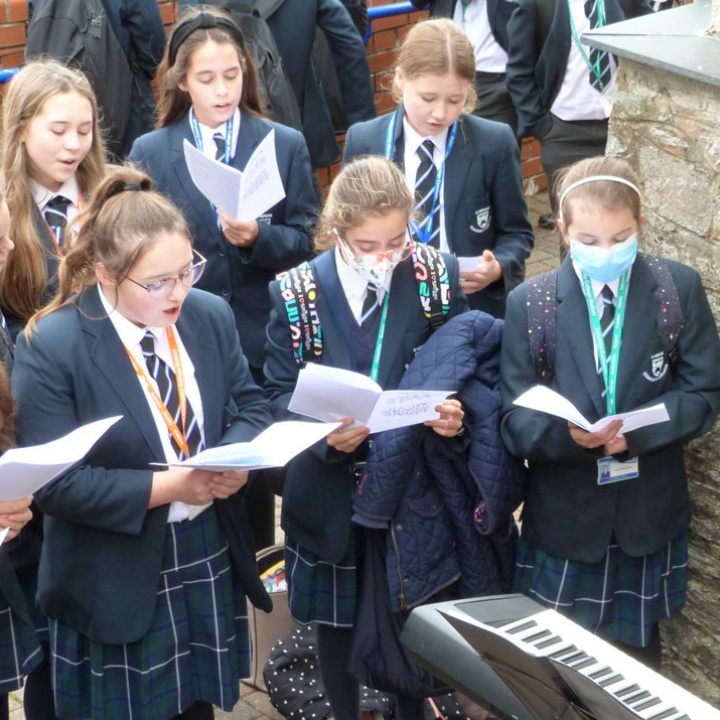 Ivybridge Community College Singing Club has had to endure so many restrictions to practical music making and singing due to COVID-19, therefore it was a moment to celebrate when they ventured outside to perform recently.
The group, who rehearse on Tuesday lunchtimes, have really enjoyed getting together to sing some favourite songs and decided that as part of their 'unlocking' Music programme, they would like to have their voices heard, out and around the College site.
Therefore, they have taken their music and voices outside and enjoyed singing in the Year 7 Peverall Quad area. Lots of students came and listened and many also joined in with songs that they recognised. One student commented that, "It was so nice to hear live music again".
They were accompanied by Hannah Stephenson, teacher of Music, on the keyboard, who said, "I felt quite emotional, hearing so many students finally being able to sing together again. It was a lovely moment, and we were delighted that students in the area joined in with our singing."
The Singing Club will be venturing out on the second Tuesday of each month, so watch out for them and feel free to join in. The club is open to students in Years 7, 8 and 9, so please feel free to join them at any time in C3.07 on Tuesday lunchtimes from 12.40-1.10pm.