Spooktacular Stories in Halloween Writing Competition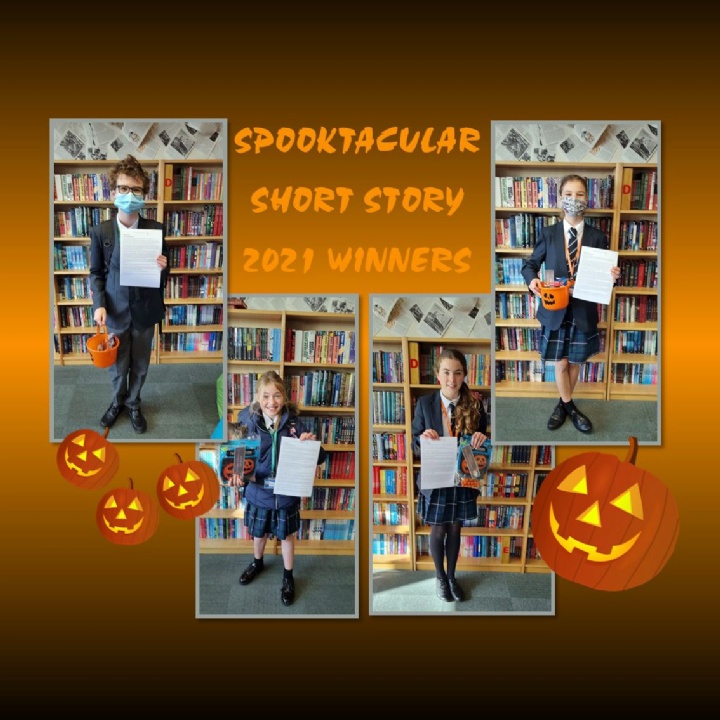 During the month of October the Learning Resource Centre ran the Short Story Spooktacular, a writing competition that encouraged students to send in their spookiest 500 word short stories based on the theme of Halloween.
The Learning Resource Centre was inundated with over one hundred short stories, from across all Year Groups, and featuring hundreds of haunted houses, many monstrous murders, and dozens of dangerous demons. The librarians spent many hours reading these short stories with fear prickling their spines; who knew students had such terrifying imaginations?
The stories were judged on their unique plots, their use of creative language, and their clever endings.
The Key Stage 3 winning entry was by Year 7 student, Xander, and was all about a brutal attack in an alleyway and the only witness trying to expose the truth, but we won't spoil the ending for you!
Holly-Marie, also in Year 7 was the Key Stage 3 second place winner with her story about Esme and her black cat, Ebony, battling evil spirits. After reading this story you'll never look at black cats the same way again.
The Key Stage 4 winning entry was by Rebecca , in Year 9. Her story subverted the expectations about how scary monsters could be, and included some wonderful metaphors that created a very foreboding atmosphere and ominous setting.
The second place winner in Key Stage 4 was Cara, also in Year 9, with her unique story about the islands used as mass graves during the Black Death. Educational and eerie, this story also encapsulated the teenage voice well.
Holly Trafford, College Librarian said, "This was a great opportunity that showcased our students' writing talents. We loved reading all the entries, it particularly highlighted the creativity of our students and their love of literacy."
Kelly Olive, Deputy Principal, added, "It is fantastic to have students of all ages participating so enthusiastically in story writing. Well done to everyone who submitted their entries and we hope you keep writing your masterpieces."
Please click on the links below to read their amazing stories -