Recognising Effort, Positivity, and Kindness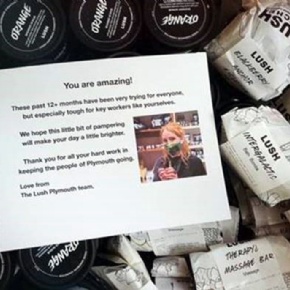 Ivybridge Community College was incredibly grateful to have received a range of kindly donated wellbeing products from the Lush store in Plymouth's Drakes Circus Mall.
As part of a campaign to thank key workers, Associate Leader Charlotte Hanton contacted the store and was delighted to receive 150 gifts from the store as a 'thank you' to staff for their hard work over the past 12 months.
All staff at the College were invited to nominate a colleague to receive one of these gifts in recognition of their effort, positivity and kindness over the last term, with some colleagues receiving multiple nominations. All of the nominations were anonymous, but the reasons were shared with the nominee, alongside quotes about positivity. In what has been a challenging year, it was a wonderful opportunity to recognise those who have made rising to these challenges that little bit easier and to appreciate the wonderful staff body that we have at the College.
Natalie Brown, a Teaching Assistant at the College said, "As someone who loves a random act of kindness, just being able to nominate my colleagues for a treat from Lush was amazing, as everybody has worked even harder this year than normal in such challenging circumstances. To receive several lush treats and to hear such lovely positive comments made a happy start to the final term of the school year. Thank you Lush for thinking of us."