Professional Coaching for Rugby Academy Students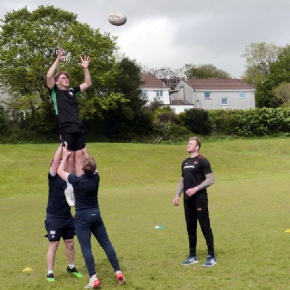 On Monday, 10 May, Ivybridge Community College Rugby Academy students welcomed Damian Welch, the Head Coach of Plymouth Albion.
Damian worked with our senior forward pack, as part of our Rugby Academy development programme, coaching them on some fundamental skills needed within the game.
The students, who were in small break out groups throughout the session, worked on core skills and games. This was a brilliant opportunity for our Senior Elite Squad, comprising of Years 11, 12 and 13, to be trained by an ex-professional player (his former teams include, Exeter, Cardiff and Scarlets).
Matt Shepherd, Head of Rugby, said, "This was a perfect opportunity for our students to receive professional feedback and coaching, and to put themselves in the eye of Plymouth Albion who operate as a professional outfit. We look forward to growing our relationship with them and seeing our Elite Squad getting the opportunity to work and train with the Plymouth Albion Senior Team in the near future."
After the session, Damian said he was, "Really impressed with the talent that was on show in the challenging conditions, and that we have some serious talent looking to push on."