Online Orchestral Musical Masterpiece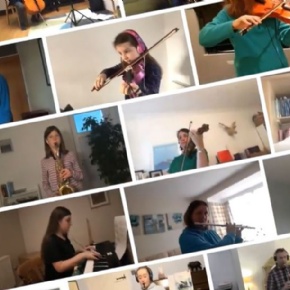 Ivybridge Community College and Ivybridge Music Centre are delighted to present their Online Orchestra musical collaboration.
The Online Orchestra started during the first lockdown and includes students from Years 7 to 13 and Years 5 and 6 from our partner primary schools.
Ivybridge Music Centre is grateful for funding from Devon Music Education Hub, without which this project would not have been possible. Please follow this link to view the wonderful performance of Rondeau from Abdelazer, by Henry Purcell.
After the huge success of the Online Orchestra, the College has now started to rehearse its Big Band online too. The Music Department can't wait for both bands to be able to rehearse for real, in person, once conditions allow. In addition to these music ensembles, the College also has other groups that are now rehearsing online; Musical Theatre Group, Spotlight Theatre Company, Technical Theatre Group and Dance Company.
"A wonderful and uplifting piece of orchestral music professionally delivered and demonstrating the strength of students and staff to continue to learn and perform virtually, in spite of lockdown measures. We are immensely proud of your continued diligence and passion for the arts." Amy Pearce, Assistant Principal.
Please follow this link to view more images and videos from previous Performing Arts performances.