Sixth Form Team Lead by Example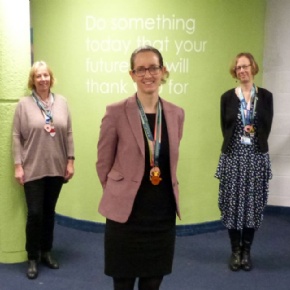 Ivybridge Community College Sixth Form Team members Heather Lilley, Deputy Principal; Kim Daniel, Personal Development and Welfare Leader and Sharon Terry, Pastoral Leader, decided to lead by example and improve their overall fitness and wellbeing by taking on multiple running challenges over the last couple of terms.
After completing the October Great Run challenge, Heather Lilley gathered the Team to complete the November challenge, the 'Baker's Dozen', signing everyone up to complete at least 13 runs in one month. Sharon Terry put the others to shame by managing to clock up 128 miles to their 44 miles.
Next came the December challenge, which required them to complete 12 runs before Friday, 25 December, which they just managed, fitting in the last run on Christmas Eve!
January's challenge proved the hardest to complete. Sharon Terry aimed to run every day during the month, whilst Heather Lilley, due to work commitments, only managing to get out at the weekends.
Kim Daniel said, "Despite the fact that I average 3 miles every other day, at a relatively slow pace, I can absolutely recommend the experience. Even on a dark, cold, windy and rainy evening a run always improves the mood, gets you out in the fresh air, and most importantly, means that you feel less guilty about any chocolate you have consumed that day!"