Alumni in Royal Marines Atlantic Ocean Row Success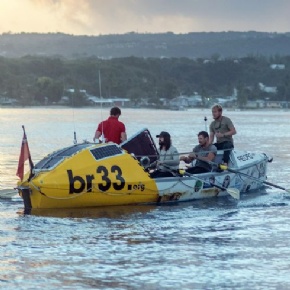 Former Ivybridge Community College student, Sam Edwards, is a member of a four-man crew who recently successfully completed an unsupported ocean row across the Atlantic Ocean from Gran Canaria to Barbados.
Sam is a serving member of the Royal Marines and is in Lima Company 42 Commando. He completed the challenge with one other serving Royal Marine, David 'Brucey' Bruce, also from Lima Company 42 Commando. Together with two recovering veterans, former Royal Marines, Will Schweppes and Junior McKinnley, who were both injured in tours of Afghanistan.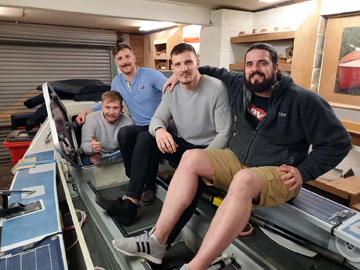 The team had been at sea since Saturday, 5 December and they arrived in Barbados on Saturday, 23 January. Their aim was to cover the 3000 miles whilst raising awareness for Royal Marines Charity 'The Cockleshell Endeavour'.
Sam grew up in Ugborough, Devon, and attended the College from 2003-2008. After leaving, he worked as a stonemason in the local area for six years and joined the Royal Marines in 2014. He has always been physically active: playing rugby, running, and rowing.
Speaking part way through the row across the Atlantic Ocean, Sam said, "It's been a really tough process getting to the start line of this row with all the challenges of Covid, but rowing with some great mates on such a fantastic adventure has made all the hard work worth it. Although I'm looking forward to sleeping on a bed that doesn't move." On arrival at Barbados he said, "I am so chuffed to have crossed the Atlantic with three great lads. We crossed the Atlantic in 49 days, 19 hours and 45 minutes."
Caroline Johnson, Associate Leader, said, "What a fantastic achievement for Sam and his team. This is a wonderful initiative supporting recovering veterans and we are really proud of Sam's involvement."
Th​e Cockleshell Endeavour, named after Blondie Hasler's famous Cockleshell Heroes, aims to use water-based endurance sport to help Royal Marine veterans who are struggling with mental and physical injuries to regain personal equilibrium. It was started by one of the world's most experienced ocean rowers and Royal Marines Falklands veteran, Mick Dawson, and has already supported ocean crossings, sea kayaking around the Falklands and the 715 km Yukon River Quest, to name a few. The success it has had with traumatized veterans is well known. Mixed crews of serving and past Royal Marines is a key ingredient in this effort.
For further information on this wonderful achievement, please follow the links below –
https://www.cockleshellendeavour.com/race-tracking/
https://www.bbc.co.uk/news/av/uk-england-devon-55280120
Anyone wishing to donate to the charity can do so via the donation link here.