Remote Learning Information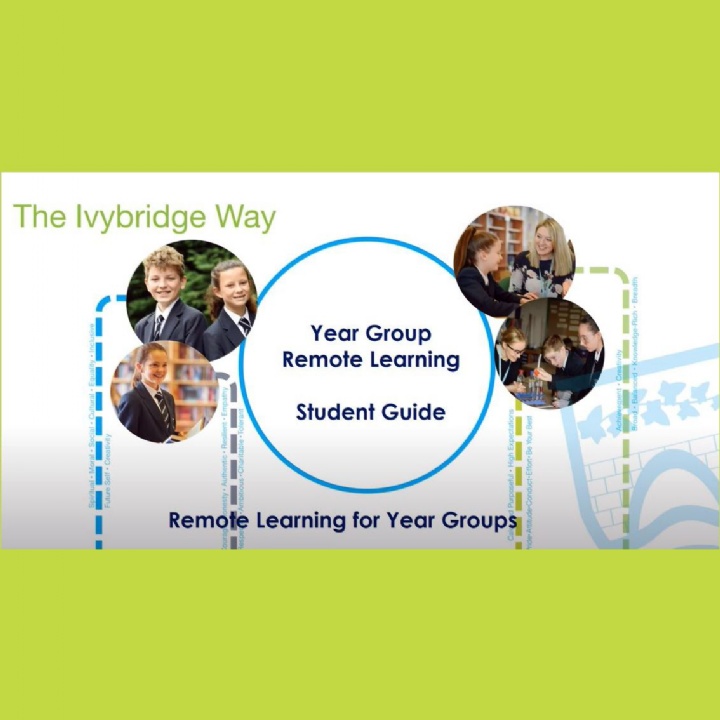 Please follow this link to a welcome presentation detailing how to access Remote Learning.
Staff and Students Committed to making Remote Learning a Success
(January 2021)
Staff and students alike at Ivybridge Community College have embraced the recent challenges with regard to remote learning.
For the whole College community it has been one of the most extraordinary and turbulent starts to any New Year, however the College has delivered its Remote Learning Programme to all Year Groups with minimal disruption to planned learning.
Laptops have been provided to students who were in need of additional IT equipment at home and the clear and concise instructions given to students about accessing their lessons has made this as smooth a transition as possible. There were some unavoidable IT glitches initially, due to the excessive online traffic facilitating over 2500 students, but these were very soon resolved. The College's broadband and external providers have given their assurance that there is the capacity and infrastructure to deliver the required lessons at any given time.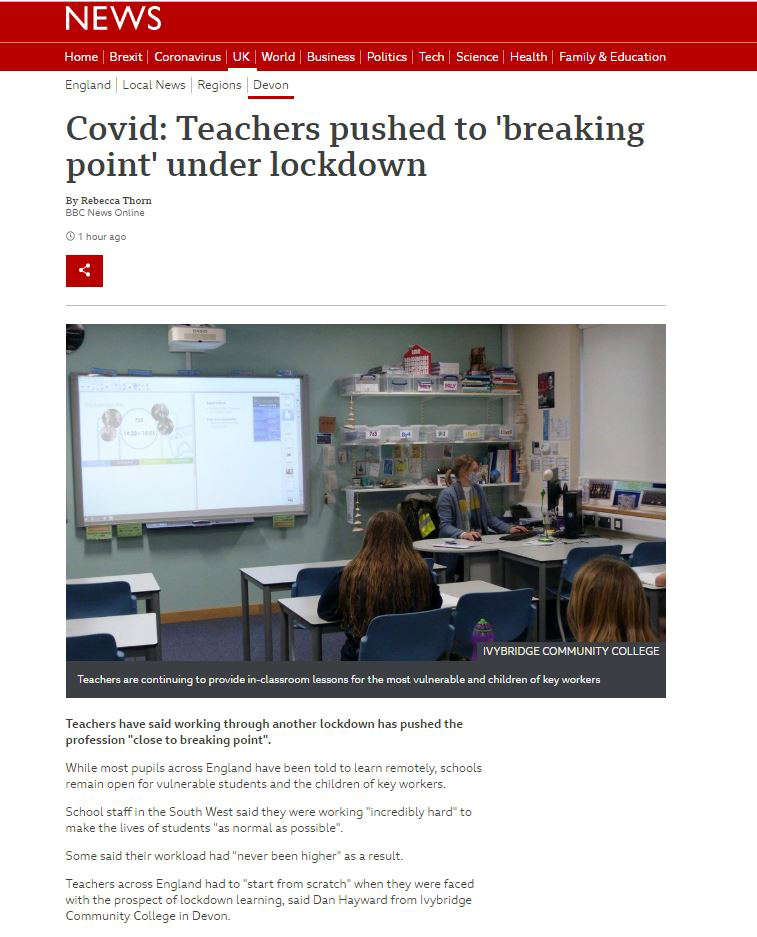 To add to the mix there was also an unexpected Fire Alarm evacuation during the first week back, resulting in online live lessons being abruptly suspended while all staff and on-site students exited the College premises following their Fire Drill procedures. Fortunately this turned out to be a technical issue with the system during planned maintenance.
The College has received some wonderful emails from parents giving thanks and offering support for the way in which staff and students are managing this unprecedented situation. Please take the time to read just a few of the messages that they have been delighted to receive:
"I would just like to say that I think you are all doing an absolutely fantastic job with all these new challenges that have arisen in the last few weeks and the past year really. The communication has been excellent and the organisation of the College as a whole has really impressed me. I have 2 children at your school and they are thoroughly enjoying their remote learning and have had no issues accessing their work etc. The whole process has been made so much easier by the exceptional efforts you have made. I cannot thank you enough. It can't be easy for any of you." Parent of Years 7 and 8 students
"I just wanted to take the time to thank everyone up at the College who has made online remote learning a possibility. Today was brilliant and it has taken the pressure off myself as a parent and that has made such a world of difference as I have two other primary aged children at home. What you have all pulled together with so little notice is just outstanding and is a credit to you all. Thank you so much for all your hard work, dedication and effort. It is very much appreciated and has not gone unnoticed. Thank you so much!" Parent of Year 7 student
"I just wanted to feedback my appreciation for the terrific effort made by one and all to roll-out the home learning. Both my boys were very engaged with their Teams lessons today and long may it last! The parent communications have been excellent, with clear explanation; which in turn, enabled me to support my children when needed. The timetable is also very useful for keeping everyone on track. Thank you!" Parents of Years 7 and 9 students.
Sarah Broom, Associate Leader, said, "The speed at which staff and students have responded to change and developed the skills to use Microsoft Teams as our remote learning platform has been incredible, and shows the commitment of everyone to make remote learning a success at Ivybridge."
Ivybridge Community College staff will continue to work hard over the coming months to maintain their high standards of teaching, motivation and support through their Remote Learning Programme for their students, ensuring that they can achieve the highest standard of education as possible in these very uncertain times.