How Dan landed his Purr-fect job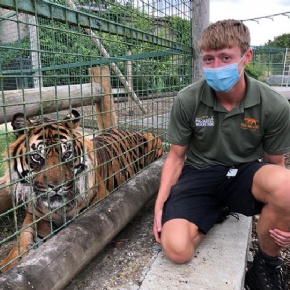 Former Ivybridge Community College student, Dan Sansom, is now in his dream job – working with Big Cats at the Big Cat Sanctuary in Kent; leading educational visits to visitors and carrying out keeping duties.
He is also looking forward to being involved in the many Big Cat endangered species conservation projects that the Sanctuary supports and hopes to travel abroad to Africa to be involved first-hand in the work that the onsite fundraising provides.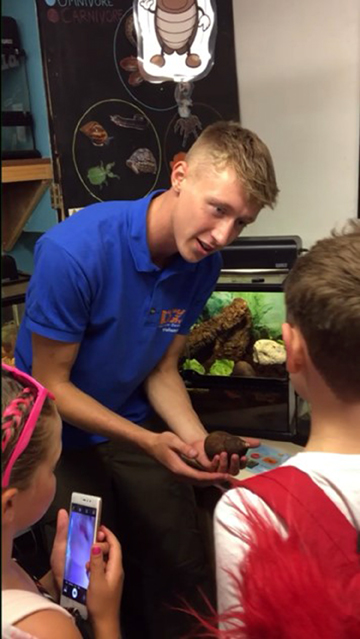 Whilst at the College Dan decided that a future career working with animals was his goal. To gain experience working with zoo animals he undertook a one week 'Zoo Ranger' course at Dartmoor Zoological Park and following that there was no looking back; deciding to volunteer there whenever possible.
A two year Foundation Degree course at Cornwall College in 'Wildlife, Education and Media' followed by a final year 'Applied Zoology' Degree course, with a focus on Wildlife Conservation and Animal Behaviour, left him equipped to start the task of applying for positions in this very niche career area.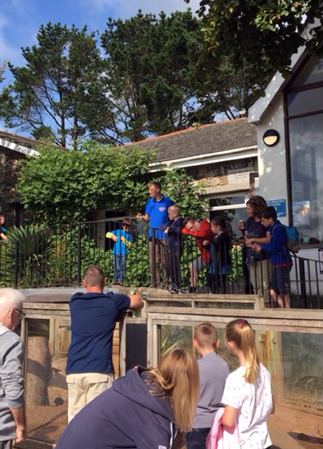 Whilst at home on holiday during his three-year degree course Dan continued to volunteer whenever he could at Dartmoor Zoological Park, often leading presentations to the public on the various animals at their site. This additional volunteering and presenting increased his subject matter knowledge, and therefore his self-confidence, which helped enormously with his skill set for job applications and interview presentations. This is a two-way winning situation, as it also helps support the local business or charity you are volunteering for.
Coral Jonas, Deputy CEO, Dartmoor Zoological Society said, "Volunteers are key to Dartmoor Zoo and the work we do. We love having them around, teaching them and seeing them flourish in their chosen careers, whether that is in animal keeping, educating people about conservation and protecting the world, events management or in managing a big team of volunteers themselves. We are so pleased to see Dan doing so well at the Big Cat Sanctuary and using the experience he gained at Dartmoor to progress in his career."
Once his degree was completed Dan began the search for a job and, following any unsuccessful application or interview, he asked for feedback. This highlighted areas in his application where he could improve upon, thereby ensuring that each subsequent submission was adjusted to further strengthen his application.
Dan was delighted to secure the position as an 'Experience Guide and Educator' at The Big Cat Sanctuary, and a year after starting in this role he still loves his job and is excited to further his knowledge on the conservation of endangered species and how to care for them in captivity.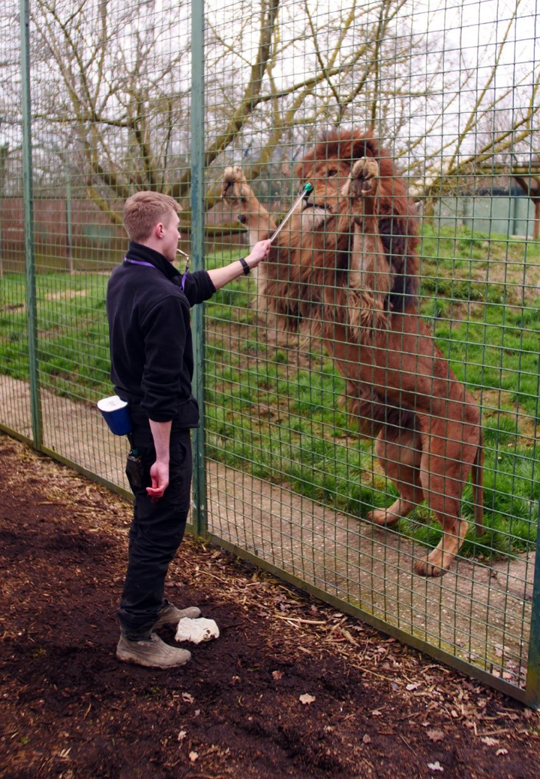 Dan said, "Volunteering goes a long way to help build confidence, increase knowledge, and shows commitment to the job role. Never get disheartened from unsuccessful applications, just keep persevering to reach your goal, and you will get there!"
"It is fantastic to hear about Dan's success in his chosen career and also the perseverance and willingness to learn he has shown to get there. What a role model for our current students who are about to embark on pursuing their future careers. We wish him all the best for his future in this rewarding line of work." Kelly Olive, Deputy Principal.