Sporting Commitment for Year 9 student Adam
Ivybridge Community College Year 9 student, Adam Dingley has spent the last few months continuing with his athletics training and further improving his performance.
Adam is a member of the City of Plymouth Athletics Club where, prior to COVID-19, he trained four times a week on Hurdles, Sprinting and Long Jump, alongside his training in the College's Rugby Academy.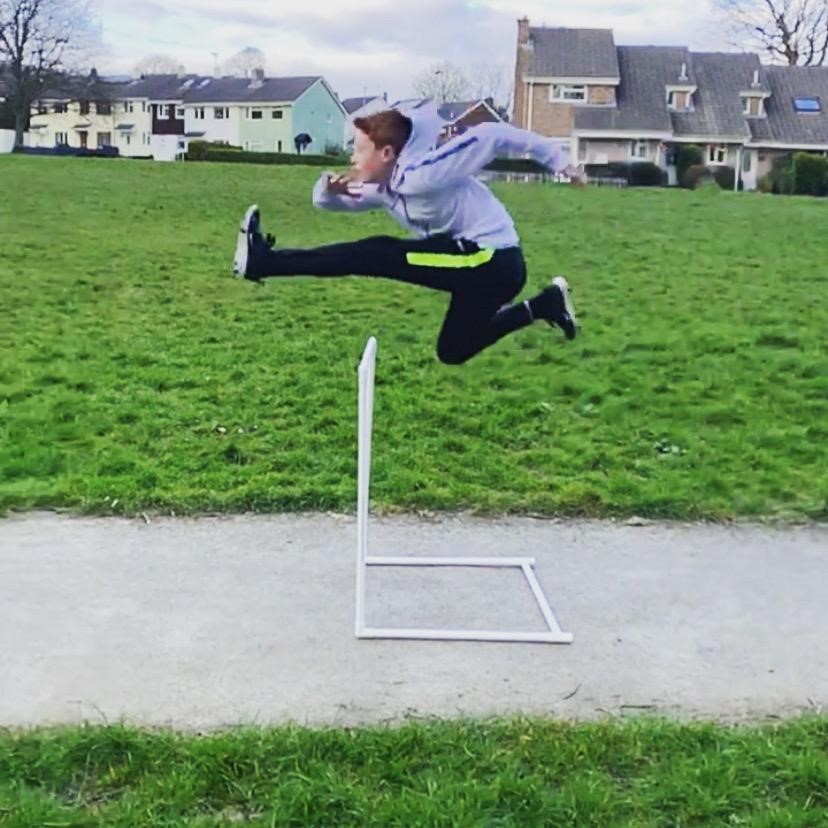 Adam has continued to train regularly during lockdown with his athletics coach, primarily by Zoom, doing Strength and Conditioning sessions. Adam adapted Sprint and Hurdle training sessions to his local area, by making hurdles from plastic piping and practising in the local fields. For Sprint training he measured out the distances in the car park by the train station and also used the steps over the railway bridge for speed work. He did get some funny looks from local residents when he was hurdling in the field.
Adam was over the moon when restrictions allowed training to recommence, but because the Plymouth track was undergoing a full resurfacing he travelled to Tavistock College to use their track. Training is now back to four times a week; twice at Tavistock and twice in Plymouth on an Astro pitch.
There have been very few competitions locally, and all the competitions he had entered before lockdown were cancelled. Therefore they have lost the whole season and it is unlikely that there will be an indoor season.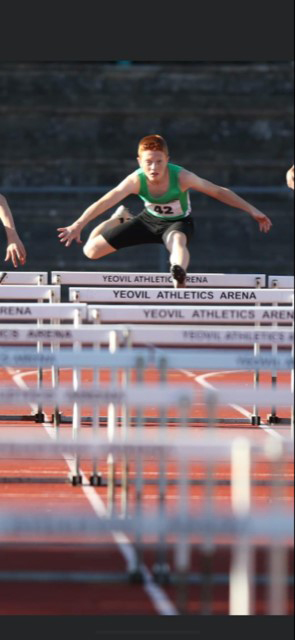 Adam is in his first year as an U15, he only turned 13 years old in May, so is considered one of the youngest.
His first competition since lockdown was at Tavistock on Sunday, 16 August but unfortunately he injured his knee during the 100m Sprint and had to pull out of the Hurdles. After three weeks of intense physiotherapy he felt able to compete at the Yeovil Olympiads on Saturday, 5 September in the100m Sprint and 80m Hurdles.
He had a great Personal Best in the 100m Sprint with 13.50 seconds, down from 13.7 last season, but an illegal wind of 2.1! He then had an amazing run in the 80m Hurdles with a Personal Best time of 13.11 seconds, which ranks him fourth in the South West and 22nd in the UK.
Adam is delighted with his Personal Best times, especially considering what little training opportunities he has had due to the pandemic. He credits his coach, Neal Edwards (RN), for his support and encouragement in keeping him at a high level of fitness during quarantine.
Thankfully Adam has loads of self-motivation to keep fit and he also participated in the following virtual events during lockdown:
1. ESSA competition- 4th in 80m Hurdles.
2. Devon Sportshall Pentathlon – Bronze position (out of 550 participants).
3. Ivybridge Community College Sports Day - 1st, 2nd and two 3rd places, out of the five events, and helped his Tutor Group to win overall.
Adam is excited, and apprehensive, about returning to College in Year 9. This starts his GCSE journey and he knows his training and competing cannot impact on his College work, so he will have to manage his studying and training to get a good balance. He took to home-schooling very well, but knows there is a lot to catch up on. Overall he is looking forward to getting stuck into a routine with his GCSE subjects and Rugby again.
"Adam has showed fantastic resilience and determination in continuing his training during these difficult circumstances. I am sure he will apply these same traits to balancing his continued training with his academic commitments now he is starting his GCSE courses. He is clearly a very talented athlete and we wish him every success in his future sporting endeavours." Kelly Olive, Deputy Principal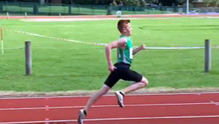 ** Stop Press**
On Sunday, 13 September, Adam competed at Braunton (North Devon AC) in the 100m Sprint, the 80m Hurdles and the Long Jump.
He achieved some fantastic results, including two new Personal Bests and a Seasons Best;
100m Sprint - 13.39s
80m Hurdles - 13.17s
Long Jump - 4m78 (Seasons Best)
He then competed again three days later on Wednesday, 16 September at Tavistock AC and produced two further Personal Bests;
100m Sprint - 13.30s
80m Hurdles - 12.80s.