'Lest We Forget'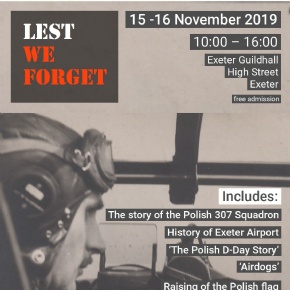 307 Squadron Project invites you to Exeter's Guildhall for the special event 'Lest We Forget'. It will take place between 15-16 November 2019, 10:00-16:00 to remember the Polish 307 Squadron.
This event also marks the 75th anniversary of D-Day, by commemorating Poles who took part in D-Day.
The 'Lest We Forget' includes:
The story of the Polish 307 Squadron.
The History of Exeter Airport where 307 Squadron were based from 1941-1943.
'The Polish D-Day Story' exhibition which shows the role of the Polish military during D-Day.
Meeting with authors of the graphic novel 'Dog Fight: Airdogs' and much more.
On Friday 15 November, '307 Squadron Day', at 10:00 the Polish flag will be raised over the Guildhall by the Deputy Lord Mayor of Exeter.