Nominate a Teacher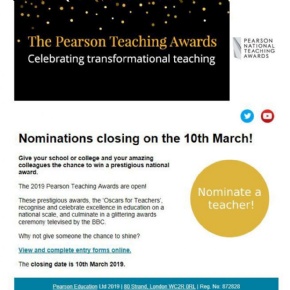 It is your chance to celebrate excellence in your College.
The Pearson National Teaching Awards recognise and celebrate excellence in education on a national scale. Their Awards honour exceptional teaching and culminate in a glittering awards ceremony televised by the BBC. Their vision is a teaching profession with high morale and a society that values and celebrates the great work that is done by teachers and leaders in education.
To give our College a chance to receive a prestigious national award, read the entry guidelines, and then choose the most appropriate category.
The deadline for entry submissions is midnight on Sunday 10th March 2019.
Please follow this link for further information and to enter - https://www.teachingawards.com/entries/