Year 6 Open Evenings - Update 27/9/21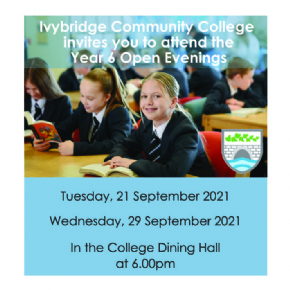 Monday, 27 September 2021
Dear Year 6 Parents/Carers and Pupils
We are really looking forward to meeting you at the Year 6 Open Evening scheduled for Wednesday, 29 September 2021.
We would like to bring to your attention that due to a rise in positive COVID-19 cases across the student population, we are requesting the following health and safety measures in a bid to protect the wider community.
All adults visiting the College are requested to undertake a lateral flow test prior to the event to ensure that no positive cases are coming into College.

Our expectation is that all visitors wear a face mask, unless exempt or under 12 years of age.

We know how important it is for parents and their children to see a secondary school before making their choice but in order to reduce numbers, we would politely request that only one parent and their Year 6 children from each family attend the event.
We apologise that we have had to take the above steps and hope that you will appreciate that this has been done to minimise the risk of any possible COVID-19 transmission whilst being able to continue to host this event.
Yours faithfully
Ivybridge Community College
Please follow this link for all Year 6 Transition information.
We look forward to welcoming Year 6 Parents to our Open Evening.
Please note, parking may be found via the Harford Road entrance, PL21 0JA or via the Marshalls Field entrance, PL21 0FQ.