Supporting World Mental Health Week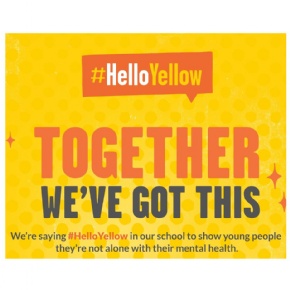 Staff and students at Ivybridge Community College have celebrated World Mental Health Week 2020 where the theme this year was 'Kindness'.
We have had a CPSHE session looking at why we need to shine a spotlight on mental health and to encourage students to consider their own mental health. We have joined the 'Hello Yellow' campaign and staff have put icons up in their classrooms to demonstrate that they, and the Wellbeing Ambassadors at the College, are open to conversations about mental health should students wish to talk to them.
The kitchen staff also got involved by making yellow cakes and putting all menus on yellow paper. The Learning Resource Centre has promoted books that have a mental health or wellbeing theme, and finally, the Sixth Form students, who have been focusing on developing their mindfulness, encouraged others to take a mindfulness break at 12.00 pm.
Helen Ryder, Wellbeing Lead at the College, said, "Those were some examples to give you a flavour of what we have been doing to support Mental Health Week at Ivybridge Community College. To keep the momentum of mental health discussion alive, we will be encouraging staff to partake in 'Movember' and the 'Make One Small Change' campaign from Mind."
"It is essential that as a College we encourage our students, staff and the wider community to stop and reflect on their own mental health and to take the time to look after ourselves and each other. Thank you to everyone who got involved this week to raise awareness of this important issue." Kelly Olive, Deputy Principal.
Useful links -
• Mind-Ed- E-learning for professionals working with children and young people
• Time to Change- Anti-Stigma Campaign and Resources
• myCAMHSchoices- A website with advice for young people who have been referred to CAHMS, or are interested in finding out about it.
• Right Here publications on mental health
• Anna Freud network supporting Mental Health & Wellbeing in Schools