'Virtual' Enrichment Week 2020
**Virtual Enrichment Week 2020**
Our planned Enrichment Week may have been put on hold, but that's no reason for students to miss out on a whole host of activities that can give new experiences, extend learning, develop an appreciation for cultural issues and bring some fun to college life. We may not be able to run a physical Enrichment Week, but there is still the opportunity for every Ivybridge student to get involved in activities that enhance their learning. We've therefore put together an electronic enrichment line-up to keep students motivated and develop their characters beyond the classroom. Thank you to all staff and students for their support in organising Enrichment Week. That initial preparation and commitment will not go to waste - it will help us ensure that when the week does go ahead in the next academic year it is even more successful than ever.
Please click here for a downloadable version of the week's activities.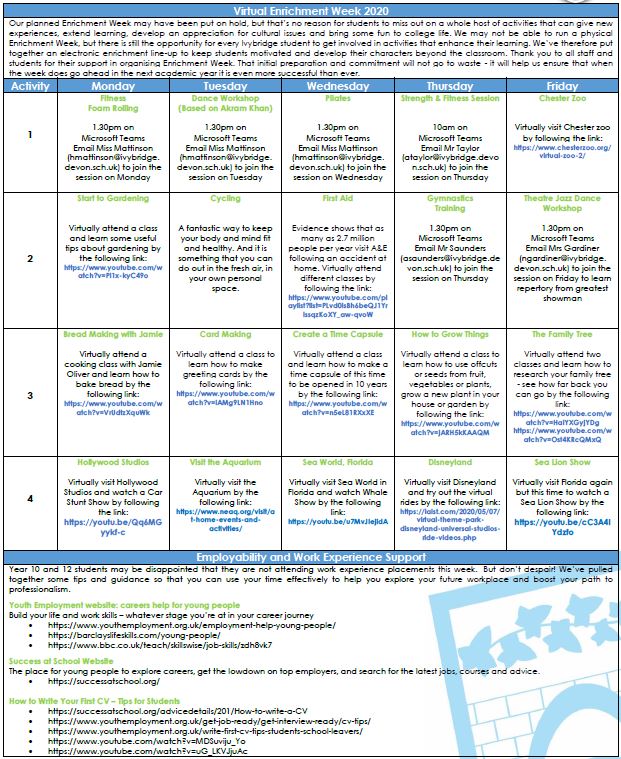 ---
**Please follow the links for the latest information regarding Enrichment Week and Work Experience 2020**
---
Ivybridge Community College will once again be hosting its very own Enrichment Week for Years 7 to 10 for 2020.
What is Enrichment Week?
While a large proportion of Ivybridge Community College students' time is spent on ensuring their academic success, we also believe in helping students develop their characters; find out more about their interests and passions; and invest in their social, moral and cultural life skills.
The activities offered in Enrichment Week help improve our students' future employability, boost self-confidence, develop leadership skills, instil self-motivation, overcome fears and help them succeed in society. They are also a fantastic way to increase students' enjoyment of College life, creating an inclusive spirit and helping build life-long memories and friendships.
What happens?
During Enrichment Week the normal College timetable is collapsed and students are offered a range of alternative learning experiences and activities outside of the usual curriculum. The week provides students with the opportunity to see and experience places and attractions both in the UK and abroad.
When is it?
Monday, 29 June to Friday, 3 July 2020
Communication
Parents will receive information in the form of a booklet. Each Year Group will follow its own particular format which has its own dedicated booklet. However, Years 8 and 9 will follow the same format. The booklets will inform parents of the packages available to students, the cost, a brief overview of the packages, the itinerary, times, what to bring and what to wear.
Information will be distributed via email, the College website, Facebook and printed copies handed to students. Parents will receive:
Enrichment Week Overview Letter (Released in October 2019)
Year 7 Enrichment Week Booklet (Released in November 2019)
Years 8 and 9 Enrichment Week – EW Booklet 1 "Early Sign Up" (Released in October 2019)
Years 8 and 9 Enrichment Week – EW Booklet 2 "Various Packages" (Release date TBC. Expected in December/January)
Year 10 Enrichment Week – Work Experience Booklet (Released October 2019)
Payment Information
Booking and payment of a package must be made using ParentPay. If you have not used it before, please go to www.parentpay.com and log in to activate your account and use the user name and password sent to you by the College.
All packages have a maximum number of spaces and are offered on a 'first come first served' basis. All packages are different with regards to the number of available spaces. If a package is full, students must choose an alternative package.
Once booking is completed and deposits are paid, a student's place is automatically secured. Students' details will be extracted from SIMS for offsite trips to include parent contact details, medical information, and allergies. Please ensure you inform the College of any changes in personal details. The act of booking and paying for your child's package on ParentPay represents consent for them to participate in that chosen package.
If you would like further information regarding ParentPay or you encounter any complications please do not hesitate to contact orders@ivybridge.devon.sch.uk or telephone the College and ask to speak to the Finance Team.
Financial Assistance
Financial assistance is available for pupil premium students, with a maximum of £50 for each eligible student. Further information will be provided in the specific Year Group Booklets.
Free School Meals
If your son/daughter is in receipt of free school meals, these are still available during Enrichment Week. A return slip will be provided in the specific Year Group Booklet.
Questions
Please ensure your child speaks to his/her Tutor to discuss any questions or concerns regarding Enrichment Week.
If you have any questions regarding Enrichment Week please contact:
Helen Reddy
Head of Performing Arts and Enrichment Week
Email: enrichmentweek@ivybridge.devon.sch.uk
Year 7
Enrichment Week 2020
booklet 1 - early sign up packages
Enrichment Week 2020
.
booklet 2 - various packages
(Coming December / January)
Enrichment Week 2020
year 10 - work experience
Enrichment Week 2020
.