Train to Teach

**STOP PRESS**
New Train To Teach Taster Day
Kingsbridge Community College - Wednesday, 1 May 2019
Please click here to register for the Taster Days.
NEW GEOGRAPHY EXETER PGCE SCHOOL DIRECT DISTANCE LEARNING COURSE FOR 2019-20
Please click here for further information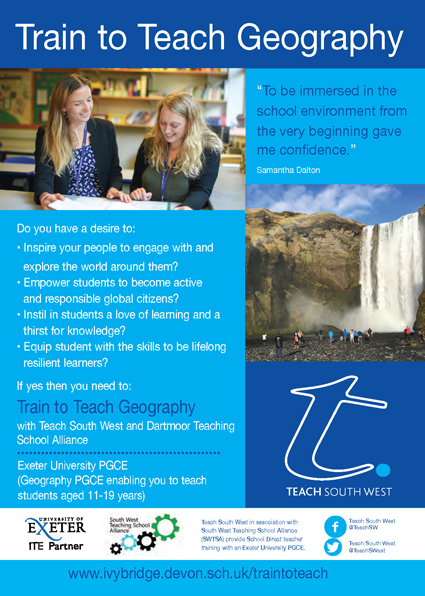 **STOP PRESS**
New Train To Teach Taster Day
Ivybridge Community College - Wednesday, 20 March 2019
Please click here to register for the Taster Days.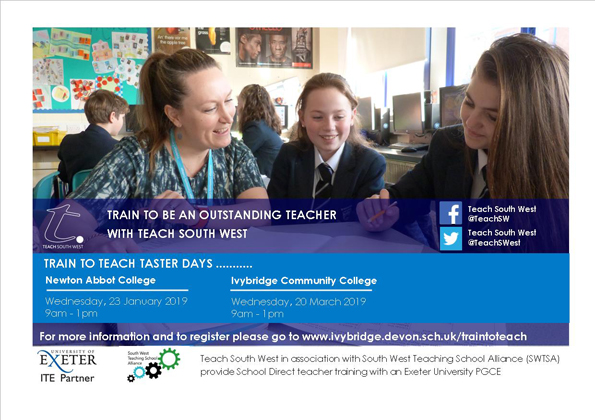 ---
Comparative Judgement Twilight Workshop session please click here for further information
Please see links at the bottom of the page for future workshops information -
---
Teach South West is delighted to announce its School Direct Partner, Exeter University.
Our Initial Teacher Training Partner has been deemed 'Outstanding' once again. Please click here for more information.

---
Ivybridge Community College is a lead school for Teach South West within the South West Teaching School Alliance (SWTSA).
SWTSA are a partnership of high performing schools sharing our skills, experience, talent and capacity to help improve learning and achievement in schools across the South West.
SWTSA has three main aims:
To promote high quality Initial Teacher Training (ITT)
To develop teaching and leadership skills more generally across our network of schools
To intervene and support schools in need
Teach South West offers School Direct training placements in English, Maths, Physics, Biology, Chemistry, History, French, Spanish, PE, RE and Primary . Click the Schools Direct link for information on this.
To apply for our courses visit the 'How to apply' page.
The Learning Institute
In addition, Ivybridge Community College is delighted to now be working with The Learning Institute South West [TLISW] which has a new lead partnership with Ivybridge Multi-Academy Trust.
The SCITT is accredited to assess and award Qualified Teacher Status [QTS] at both primary and secondary phases and has experience built up over 12 years. TLISW also work with HEIs in order to be able to offer academic awards, alongside QTS.
TLISW offer opportunities for a variety of routes into teaching based on individual assessment of circumstances and this can include access to an undergraduate degree in Teaching and Learning should the degree requirement for teaching not be in place.
Your journey into teaching can start today by following the link below.
http://www.learninginstitute.co.uk/our-courses/itt/
Entry Requirements
Find out the grades you will need
How to Apply
Take a look at the course codes for UCAS
School Direct
Are you eligible for a Bursary?
Skills test
Find out what you need to pass before entry
Contact us
Need more information? Find out who to contact
Why Train with us
We offer high quality school-led initial teacher training