Festive Week 2022 - Community Carols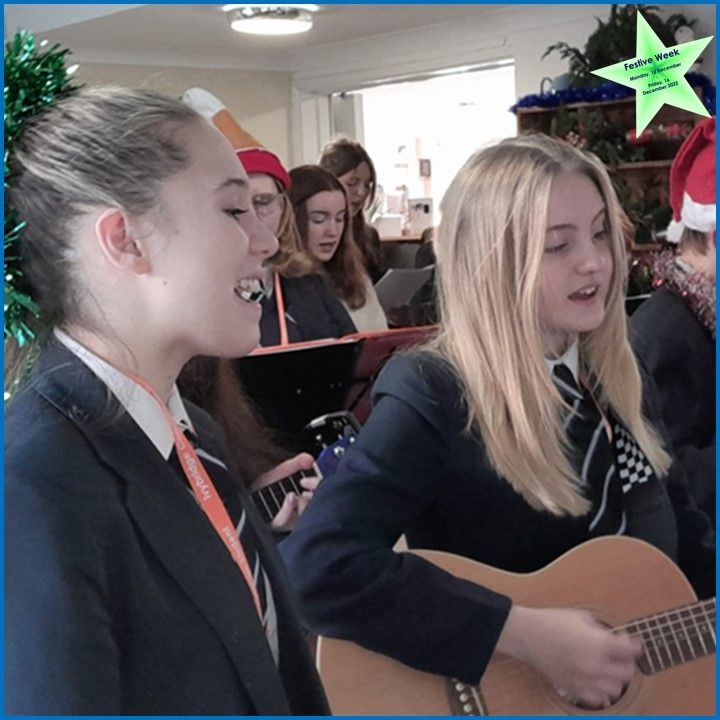 For the first time since the COVID pandemic, our performing arts students were back on the road this Christmas for their Carols on Tour concerts.
The group gave some heart-warming, live music performances at a variety of local, community venues including the Erme Primary School, Ivydene Residential and Nursing home as well as Ivybridge Library.
The company featured musicians from the Ukulele and Basking ensembles led by Phil and Mahrey Berthound, and were joined by the Pop Vocals ensemble, led by Rosie Le Caz .
Students were praised for their performances and their conduct, with one member of the care staff at the Residential home describing the pupils as 'impeccably behaved'.
Director for Enrichment and Sports Academy Lead Helen Reddy, said, "The students and staff were delighted to be able to do this event again for the first time since the pandemic and it was wonderful to see them share the cheer, festivities and Christmas music with the community.
"The students showcased their musical talents, compassion and Christmas spirit thoroughly enjoying the day, and are excited to come back to perform more in the future."
Teacher of Music, Mary Webber added, "It was fantastic to see these students being so engaged and putting themselves out there and performing to such a high standard.
"We are very proud of their achievements and wish all Merry Christmas and a Happy New Year!"
This concert was part a wider series of events that made up the College's Festive week, featuring a variety of festive-themed activities in the fields of sports, crafts and performance, raising over £2700 for Children's Charities and College Projects.
The College would like to thank everyone for their participation over the Festive Week and are proud that students are taking advantage of the opportunities on offer and benefitting the wider community in the process.
Such endeavour is highly valued at Ivybridge Community College, and we cannot wait to embark on some more extra-curricular adventures soon.