TeachMeet South West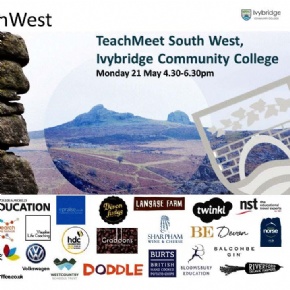 Our very first open door TeachMeet at Ivybridge Community College.
Our TeachMeet on Monday, 21 May 2018 will be a gathering of school leaders, teachers, educationalists, education service providers and authors from across the South West of England and indeed some who will be travelling the nation, either in person or via the magic of media, to join us to share best practice. TeachMeets are appreciated by many as an opportunity to gain inspiration and improve their practice. This event will host around 250 people.
Afternoon tea will be available on arrival and the event will start promptly at 4.40pm.
Parking will be available in the College Coach Park with some spaces available in the main College Car Park.
All attendees must be registered via Eventbrite. Unfortunately there will be no additional places on the door as space is limited.